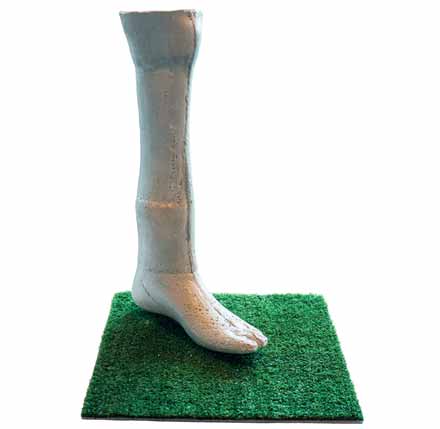 Rachael Waith
www.pinterest.com/raquelwaith
Artwork title: Светла́на Кириленко нога,
(Svetlana's Leg) 2013
Materials used: Prosthetic leg, concrete, stainless steel, plastic, epoxy and polyeurethane seal.
As an artist my work deals with intimate human relationships involving desire, deception and love.
The recent passing of James Gandolfini (1961-2013) last month has influenced this piece. This work is a monument commemorating one of my favourite characters of all time – Mafioso boss Anthony John Soprano Snr aka, Tony Soprano.
Svetlana was one of Tony's Russian mistresses, whom had a prosthetic leg.
Tony admires Svetlana for her toughness of spirit and her refusal to allow her disability and misfortune to get in the way of her ambitions.
Price: $200
100% of this sale will be donated to COPE in Laos.