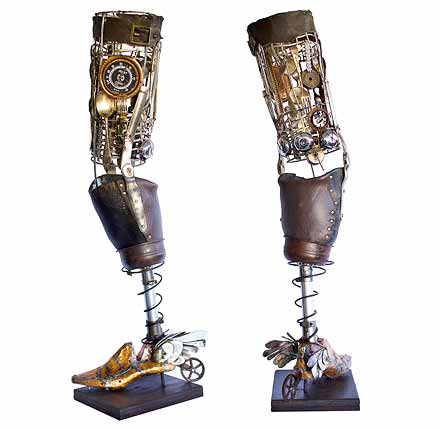 Bec Peart and Martin Pedder of Blackbird's Emporium
www.facebook.com/blackbirdsemporium
Artwork title: Freedom Machine
Materials used: Prosthetic leg, found metal objects, leather, copper sheeting and wire.
Prosthetic donated by: Amputees and Families Support Group Inc
We are heavily influenced by the Steampunk genre, which is a fusion of Victorian era technology and futuristic Scifi adventures. The Victorian era was a time of great exploration and discovery; geographically, technologically and in medicine. It was an optimistic period where the future seemed bright, and we have aspired to bring this feeling into this artwork.
The name "Freedom Machine" conjures up images of adventures and escapades, where the sky's the limit, and only bound by your imagination.
Price: $200
100% of this sale will be donated to COPE in Laos.