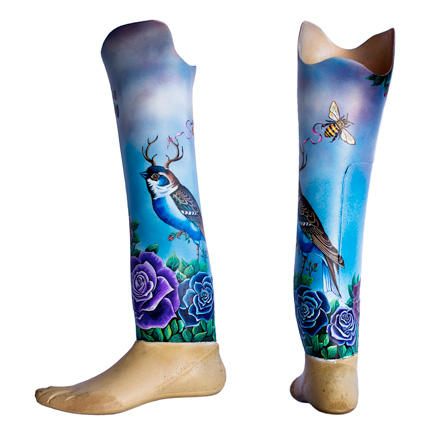 Kerri Hobba
www.facebook.com/KerriHobbaArtWithATwist
Artwork title: What Lies Beneath
Materials used: Prosthetic leg, spray paint, acrylic, and marker pen.
I wanted to explore the notion of surface beauty that has depth and a hidden cheeky edge if time is taken to look beyond the obvious. I also wanted to paint a "pretty" on this wonderful Symes leg of which I have become very fond, out of respect for its original owner.
The leg is representative of so much more than just mobility. It has a wealth of technology, hard work, medical know-how and optimism. I love that each leg has a human story behind it – hence the deliberate decision to leave the foot unadorned and unpainted and to keep it in its raw, functional form, which has a perfection in itself.
Cosmetic beauty has a sameness that is repetitively boring and flawed, although society strives for it constantly. Vive La Difference!
Price: $200
100% of this sale will be donated to Cope Laos.